Graide
Extensions
Auto Levels
×
Licensing is handled by CopeCart GmbH. You will receive a license key by e-mail as soon as your payment is received. This license key turns the trial version into an unrestricted full version.
Refund policy
This product is digital content (download + license key) and as such is not refundable after the license key has been e-mailed to you. At the bottom of the order page, you will be asked to agree that CopeCart will commence the execution of the contract (i.e. provide the license key) immediately and that this ends your right of withdrawal.
However, you are welcome to download and evaluate the free trial version before making the purchase.
ORDER NOW
CopeCart GmbH is the seller of the license and your contractual partner.
Graide Color Curves

for VEGAS Pro and
VEGAS Movie Studio Platinum

Color correction and grading with 12 color curves and 2 color models

including VAT

BUY NOW DOWNLOAD TRIAL

Part of the Graide Bundle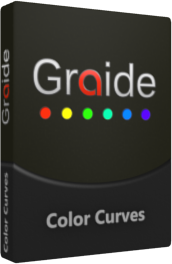 Symbolic picture
Color curves are among the most powerful tools in video editing. Graide Color Curves now brings their power to VEGAS Pro and VEGAS Movie Studio Platinum – with Y'RGB and HSY' modes, zoomable and pannable curve windows, coordinate editor, studio RGB support, color picking, and more! You'll easily create compelling corrections and spectacular looks.
Check out the features or jump right in and download the free trial version!