Graide
Extensions
Auto Levels
×
Licensing is handled by Digital River GmbH. You will receive a license key by e-mail as soon as your payment is received. This license key turns the trial version into an unrestricted full version.
ORDER NOW
Digital River GmbH (Share-it) is the seller of the license and your contractual partner.
Graide Color Match

for VEGAS Pro and
VEGAS Movie Studio Platinum

Quickly and easily match color and brightness between different shots.

including VAT

BUY NOW DOWNLOAD TRIAL

Part of the Graide Bundle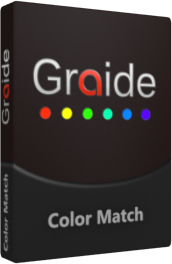 Symbolic picture
Whether you're a professional or an ambitious amateur – Graide Color Match will change the way you color-correct your footage. With its automatic color matching capabilities, you will often achieve with few mouse clicks what previously required tedious parameter tweaking. Spend less time with the technical details and more with telling your story.
Graide Color Match is a video effect plugin for Vegas® Pro and Movie Studio Platinum. Right in your timeline, you can
match shots that have been recorded with different cameras, different camera settings, or different lighting conditions,
use color reference charts for matching shots,
even out brightness and color changes over the course of a shot, and
transfer color and brightness from one shot to another.
Check out the features or jump right in and download the free trial version!